— Art at Dolder Bad is taking a break this summer —
Welcome to Art at Dolder Bad, where bathing culture extends a welcome to the art scene. Changing rooms house installations, the site is peppered with sculptures and the gallery has been installed.
Location
Dolder Sports
Adlisbergstrasse 36
8044 Zürich
www.doldersports.ch
Access routs
Tram 3 or 8 to Römerhof, with the Dolderbahn to Bergstation and by foot to Dolder Bad.
Motorists follow signs to Zurich Zoo and Dolder.
Events
Please refer to the event calendar for a list of events.
Visit
Artist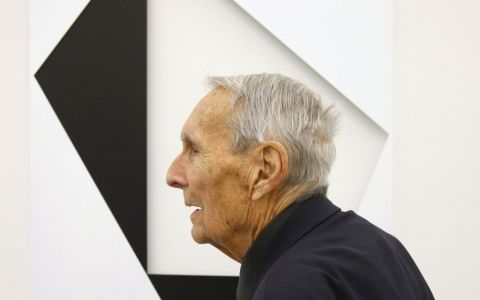 Gottfried Honegger
Exponent of Constructive Concrete Art
Gottfried Honegger (1917-2016) was one of the most influential Swiss artists. He not only impacted and enriched the city of Zurich with his works and his art, but also left his mark in Paris, Cannes and New York.
Gottfried Honegger was an exponent of the constructive concrete art movement – a philosophy whereby an artist expresses their individual signature through clear geometry and monochrome colour palette. The idea that art is not about the artist him- or herself, but rather about society and coexistence. Gottfried Honegger once said, "the aim of concrete art is not to create a picture, but rather a social culture," and it is in this sense that his art should be integrated into everyday life in our society.
Therefore, curator Martin Gut, in collaboration with the Galerie Romerapotheke, will be presenting this special exhibition at Dolder Bad. Gottfried Honegger regularly swam in this pool with Max Frisch, who in turn dedicated his play Triptychon to him.
The works of art will exhibited at Dolder Bad on the lawn, in the historically listed cabins, as well as in the gallery on the first floor. Admission to the exhibition is free.