— Art at Dolder Bad is taking a break this summer —
Welcome to Art at Dolder Bad, where bathing culture extends a welcome to the art scene. Changing rooms house installations, the site is peppered with sculptures and the gallery has been installed.
Location
Dolder Sports
Adlisbergstrasse 36
8044 Zürich
www.doldersports.ch
Access routs
Tram 3 or 8 to Römerhof, with the Dolderbahn to Bergstation and by foot to Dolder Bad.
Motorists follow signs to Zurich Zoo and Dolder.
Events
Please refer to the event calendar for a list of events.
Visit
Curator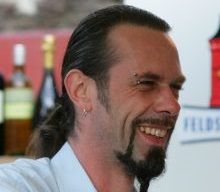 Martin Gut
The curator behind Art at Dolder Bad
Martin Gut launched Art at Dolder Bad nine years ago. His objective was to bring current works out of the closed art spaces and use them as "food" in a special place where people go to relax, rest and do physical exercise, as an at least hypothetically self-evident component of the freedoms we derive from the urbanised and valuation-oriented life of work. He produces short film profiles together with all the artists which he publishes on the Internet as editorial pieces.
www.youtube.com/KunstimDolderBad
Workshop "Portrait roulette"
After a quick crash course in sketching and painting portraits, you will pair up with the person opposite you and paint one another. The portraits will then pass from person to person in a random order, so that by the end of the session, everyone will have contributed to creating each picture. A truly unforgettable and fun event – and of course, the paintings will be yours to keep afterwards.
Workshop leader: Martin Gut
Dates:
1 June to 1 September 2018
Mondays to Thursdays, 9.00 am to 8.00 pm
Fridays, 9.00 am to 6.00 pm
Saturdays and Sundays, 2.00 pm to 6.00 pm
Duration: 1.5 to 3 hours
Number of participants: 2 persons or more
Language: German
Price upon request
Booking at info@doldersports.com
Guided tour of Art at Dolder Bad
Our curator Martin Gut will guide you around our exhibition, telling you about the artists and the pieces being exhibited.
Guide: Martin Gut
Dates:
1 June to 1 September 2018
Mondays to Thursdays, 9.00 am to 8.00 pm
Fridays, 9.00 am to 6.00 pm
Saturdays and Sundays, 2.00 pm to 6.00 pm
Duration: 1.5 hours
Language: German
Price upon request
Booking at info@doldersports.com